See what are the most common mistakes made during the First Dance !
2022-01-07
The most common mistakes made by the newlyweds during the First Dance:
1. Looking at the floor
2. Practicing choreography without music 3. Counting steps while dancing
4. Wrong directions
5. Not practicing in high heels
6. Not practicing in a larger space
7. Not doing a final rehearsal
8. Improvisation
During our tutorial videos, we talk about many elements that will greatly improve the performance of your First Dance, no matter if you have an instructor in front of you or are practicing on your own.
In front of you is a list of the most common mistakes made during the first dance. I've chosen a few elements that are ESSENTIAL during the final stages of learning that EVERYONE should remember, regardless of whether you practice alone at home or in a studio with an instructor. Recently popular home office and a mostly sitting and bent position at work don't help with maintaining a perfectly straight posture, so we will pay a lot of attention to it. I was wondering whether to label any of the elements as the most important ones, but I can't make up my mind, because all of them are just EQUALLY important. I apologize in advance for the super large font, but I'd really hate for you to miss something... :)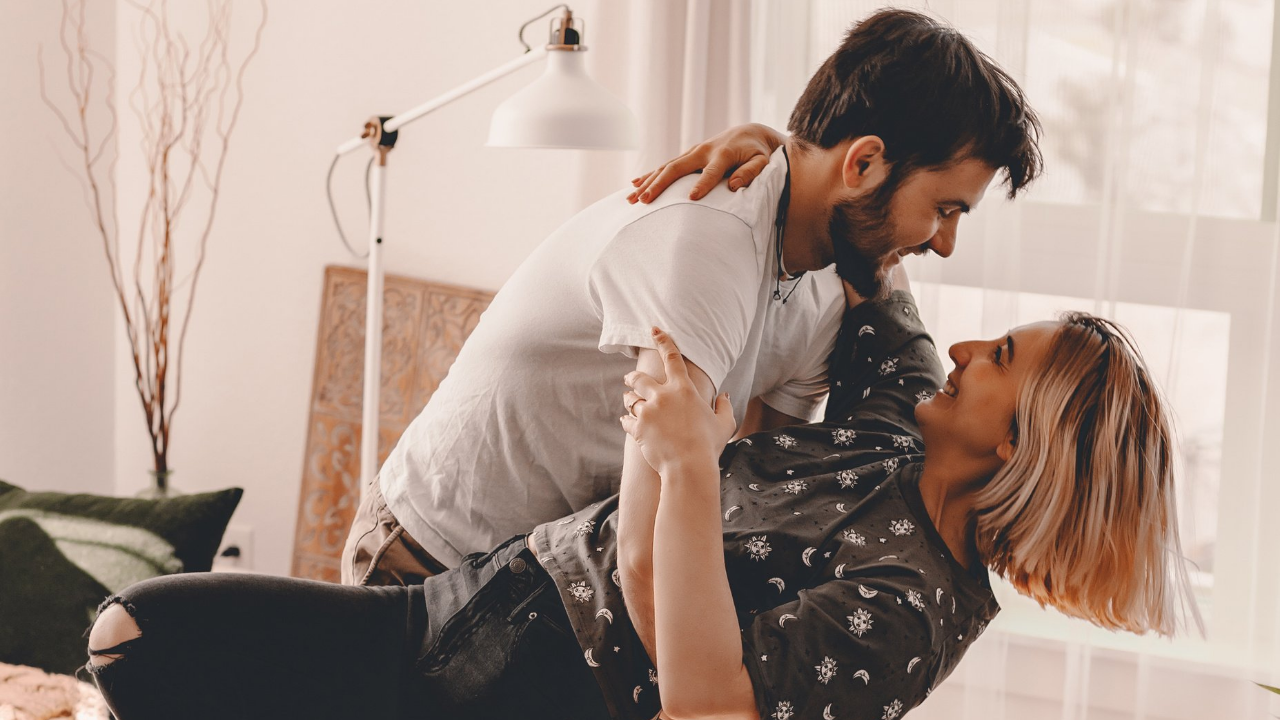 1. Looking at the floor
You have learned the steps. You know the sequence of the figures. You know how to dance the whole choreography from beginning to end. Now it's time for your first dance. You walk out to the center of the dance floor. You see the guests around you, staring at you ........ and....... This is the moment when you realize that it's happening NOW. You keep your head down, look at your feet..... avoid eye contact with the audience..... and that's how the first dance goes....
If you want to look beautiful then:
(WHEN PRACTICING AT HOME IMAGINE YOUR PERFORMANCE, THAT WAY IT WON'T BE THAT SCARY) ;) (please do not skip this element)
- Keep your head and chin up
- Put your chest forward
- If you have to look down while dancing because you have a very long dress and don't want to trip over it, it's ok just pick up the skirt, continue dancing and keep your head up.
- Don't forget to smile, after all, you want Beautiful pictures :)
- Look into your partner's eyes
PAY ATTENTION TO ALL OF THE ABOVE WHILE PRACTICING AT HOME! EVERYTHING TAKES TIME TO GET USED TO.... Muscle memory is the key.
2. Practicing choreography without music
You are practicing all the elements, but have not tried dancing the entire choreography with music.
Make sure you practice dancing to the music. I'm not saying that in the beginning, you have to dance every single step with your chosen song. Practice the choreography in parts, but with background music, and then dance bigger and bigger parts of the routine. A few days before the wedding the whole choreography has to be danced to the song, without any breaks. Dancing with music also helps your muscle memory. If you don't know what is coming next, the song can tell you whether it should be something slow or fast, etc.
If you are not sure if you're doing all the steps in the right moments, turn on the video of us dancing the choreography of your choice, and let's dance together :)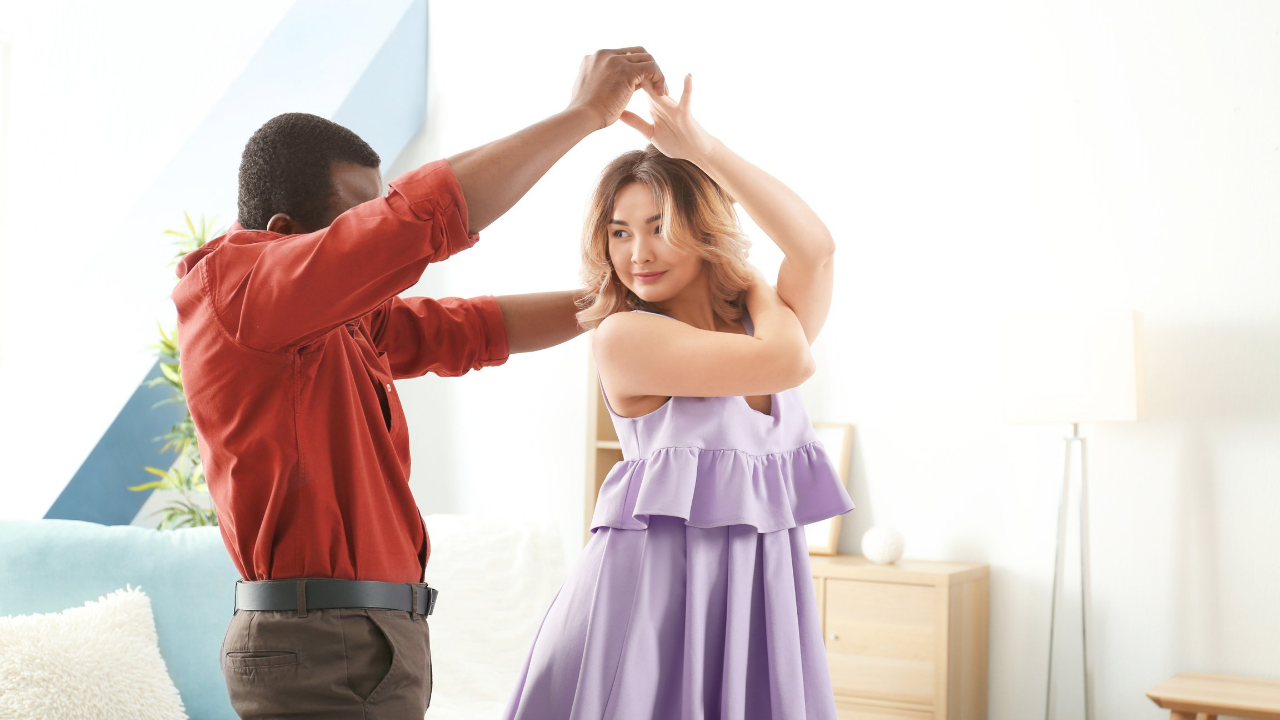 3. Counting steps while dancing
Don't count the steps under your breath while dancing.
Performing in front of an audience is the final stage of your learning process, where all the steps should already be memorized. Some people indeed tend to count the steps to help them remember the choreography, and that's ok. In the beginning :) But during the performance, make sure to smile. Look at point number 1!
4. Dancing with your back facing the audience.
When creating and practicing the first dance you decide on one direction. That direction is a point you will be facing, and where you will be doing all the swings, figures, and bows. Keep a close eye on the directions, because their repetition supports the correct execution of the choreography. At the stage of practicing and repeating the routine over and over again, each take must be similar. You cannot end up facing forward one time and then suddenly end up backward or sideways the next time. Unless you have several years of experience in dancing and can handle a crisis situation, make sure to do things the way the video or instructor tells you.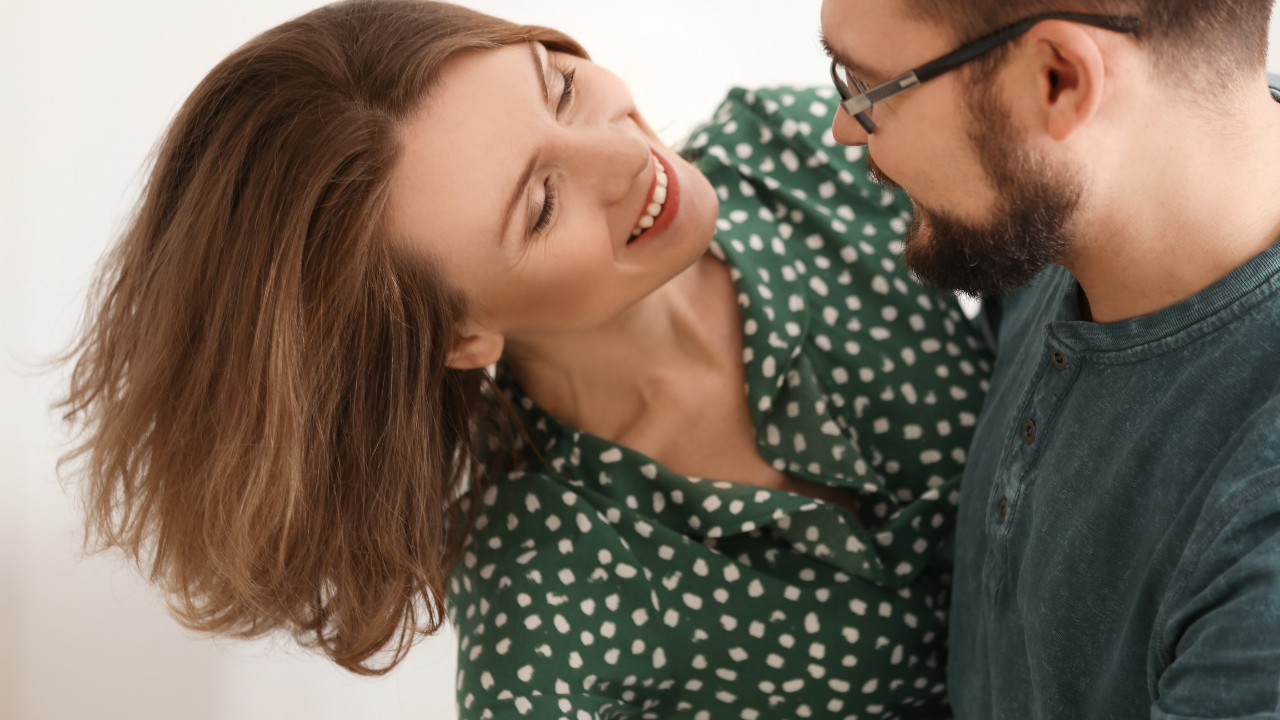 5. Not practicing in high heels
Very often ladies point out that by practicing in flat shoes and then switching to high heels, they wobble at first and can't find their balance. In addition, putting on higher shoes changes a lot for their partner too. Suddenly they see a female in front of them who is 10 cm taller.
Then they have to hold the frame a bit differently and raise their arm a little higher while spinning so they don't mess up their partner's hairstyle. :)
You don't have to practice in your wedding shoes from the beginning to make sure they don't get ruined. You can just practice in ones that are a similar height.
It's a good idea to take your wedding shoes to one of the last classes or dance rehearsals to stretch them out a bit and see how they hold your feet.
However, make sure to bring your wedding shoes to the final rehearsal of your first dance to check that you are not sliding around too much on the dance floor.
6. Not practicing in a larger space
Sometimes a couple who has been practicing dancing in a small space suddenly find themselves in a large wedding venue, and as a result, they start taking very large steps because they feel like there is more space they have to use. This is very misleading because the steps should stay the same even when the space around you changes.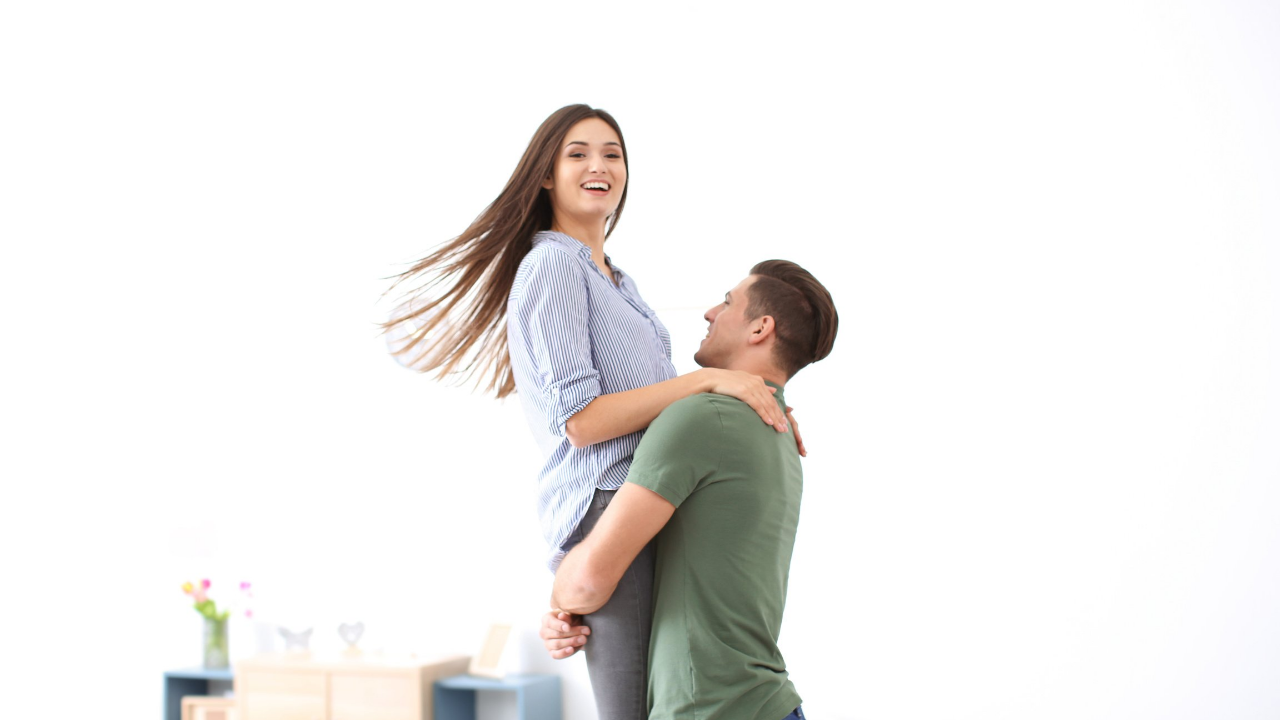 7. Not doing a final rehearsal
What is the purpose of a final rehearsal?
- Check if the dance floor is slippery
- See how it feels to dance in your wedding shoes
- Check where to do all the spins and figures on the dance floor
- Find where in the room you should start the dance from and where to position yourself.
- Get used to the space, which makes you feel more comfortable during the performance
-It makes it easier for you to visualize your First Dance later on (which I strongly encourage you to do).
It's as if an actor without any previous rehearsal went on stage, stood in front of the audience, and while performing had to check whether the light comes at the right moment, the microphone works correctly, the background music is good, and if he can remember the text well. To me, it all sounds very stressful. Such preparations should take place beforehand.
You, as well, during your first dance, are performing. You are standing in the middle of the dance floor, and all your family and friends are looking at you. Will you be nervous? Probably yes. Do artists who have been performing on stage for years get nervous too? They probably still do.
How do you make yourself less stressed? Like with everything, just be well prepared. Don't leave learning the dance to the last minute. Once you start dancing, after a few moments the stress will disappear, you'll hear a familiar melody and if you've danced the routine to such an extent that you don't have to nervously think about what's next: congratulations :) That's what we strive for. With dancing it's like with learning any other skill. What matters is how much you practice. When you are learning a new language, you have to repeat a word several times to remember it. Similarly, when you are learning to work in Excel, you also have to memorize the order of what you're doing. And it's the same with dancing. :)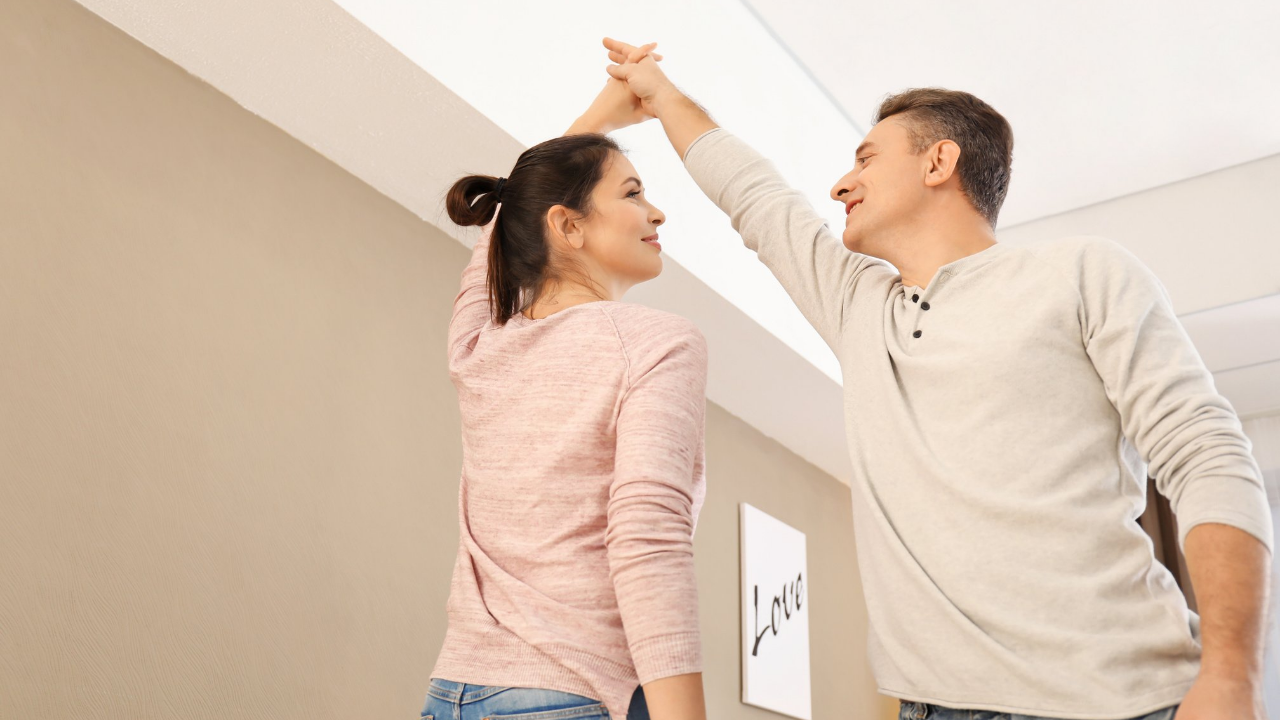 8. Improvisation
Apparently, in theater, actors say that: "The best Improvisation is the one that is well prepared.... "
And it's hard to disagree with that :)
Yes, dancing like any other skill takes practice.
If you've never ridden a bike, it will be hard to get on one and start riding the first time, let alone get on and ride in front of the whole family and guests who are watching and judging ?!
It's the same with the First Dance ;) It's important to prepare well.
Even if you don't want a complicated choreography, and just want to use three figures during your dance: -Rotating your partner under your arm,
-Leaning out,
-and switching places,
you still have to learn them. Repeat them enough times to make sure all the movements are memorized by your muscles and then you can improvise without counting the steps under your breath.
If you are interested in the abovementioned minimalistic version, I invite you to visit our website where we present some universal moves.
The situation looks different when a couple that has already danced together on numerous occasions decides to improvise. You can see right away that these spontaneous come naturally to them. They feel comfortable with them as if they've mastered all those turns and swings.
Practice makes perfect.